Home

/

Summer Show Auditions and Casting Calls!
Summer Show Auditions and Casting Calls!
23 January 2020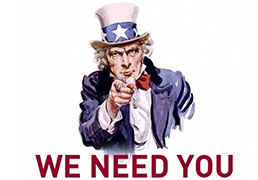 Miss Mackay has announced that all students are welcome to try out at the auditions for Aspire's 2020 Summer Show entitled America taking place on Tuesday, 4th February in the Drama Studio (A11 and A12) from 3pm until 5pm.
The show will be a collection of scenes and musical numbers from the West End and Broadway productions of Oklahoma!, Copacabana, Mean Girls, Hamilton, Dear Evan Hansen, Waitress, 42nd Street and Footloose, featuring a wide variety of roles with acting, singing and dancing throughout. During this first audition video clips of all the featured scenes will be played so hopefuls can get an idea of how the show will take shape.
But if being on stage is not for you then there are plenty of 'behind the scenes' positions waiting to be filled from lighting and stage management to sales and front-of-house.
The show has been put together by Miss Mackay who said, "I feel this year's show is quite an undertaking but I'm confident it will be a huge success with Miss Bamber, Miss Eastwood and Mr Moore as my co-pilots.
"At this stage we're looking to cast all the parts and hopefully most of the backroom staff, but once that's done we can then concentrate on rehearsal schedules, scenery, props, costumes and all the other fun stuff that is involved with producing a professional theatrical performance."
Dates for the show have yet to be confirmed.