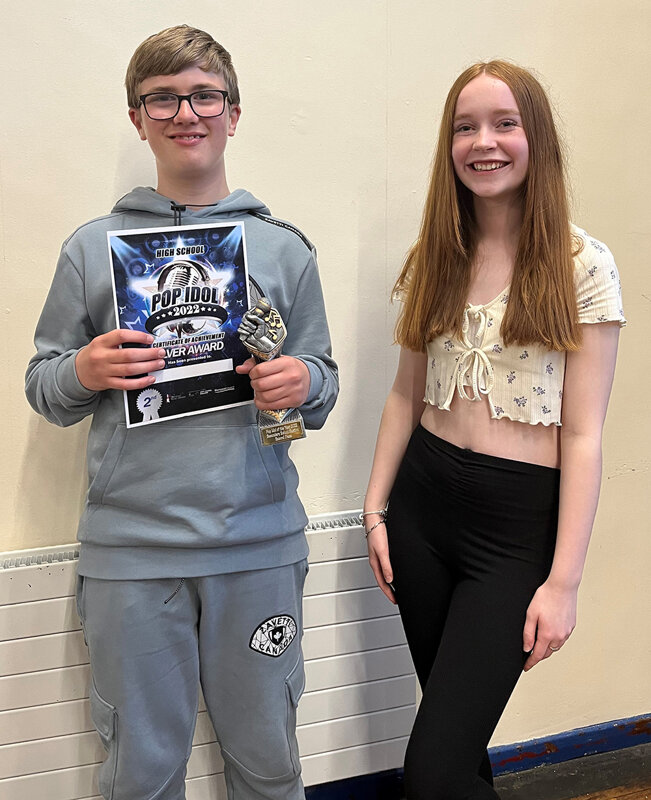 Two of our students took part in the Blackpool Music Service Pop Idol Competition at Montgomery High School on Tuesday night. Becky (year 11) performed the song Put your head on my shoulder by Paul Anka, a 1959 crooner classic and Tom (Year 8) accompanied himself on guitar and performed Holiday by KSI. Both performers were simply amazing, exuding confidence and style and impressing the judges.
Becky has been taking singing lessons, perfecting her performance and was excited to be on stage. Her choice of an older song in the competition was refreshing, where most singers had choosen more up-to-date music. Her voice was powerful and overall her performance was seamless.
Tom is a grade 5 guitarist and has been taking guitar lessons. He loves to play and sing, producing a skilled and quirky performance that was professional and fun.
Tom came second in the high school competition and was awarded a certificate and trophy as seen the the photo. Becky was not placed in the top three, however, the judges expressed how difficult it was to award the top three and stated that there were only 1 or 2 points in at at the end. She will also be awarded with a certificate of achievement.
Ms Mackay, Head of Performing Arts said, "Becky and Tom are a credit to Aspire Academy and themselves as they have worked so hard to produce such fantastic performances. It's not easy to sing solo on stage in front of a large audience. Their confidence on stage reflects thorough the rehearsals that they have clearly done and they both absolutely loved the experience, thoroughly enjoying themselves. They have been awarded 20 achievement points each and I am so proud of them. That was Becky's final performance as a student at Aspire and she's going out in style!"