Home

/

Service with a smile
Service with a smile
25 June 2020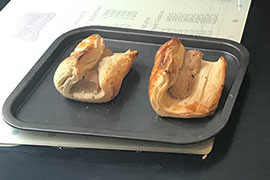 Year 8 Aspire student Ed has been giving himself some extra work to do during lockdown by helping around the home with household chores and treating his family to culinary delights.
Described as "an absolute superstar throughout lockdown" by his teachers, Ed has been building on his Food Technology work at home by not being afraid to put himself out of his 'comfort zone' and try different dishes including the ones pictured below, putting to good use his organisational skills and attention to detail.
Mr Barnhurst, Head of Technology, said, "I have taught Ed Food Technology this year and it is great to see him grow in confidence to produce a variety of outcomes that I set as home learning. Time constraints are usually a factor in lessons, however it's great to see Ed can work independently and has demonstrated different skills making these outcomes."
On seeing the photos, featured below, of Ed's cooking Miss Mackay, Head of Performing Arts, said,"During lockdown, Ed has completed loads of tasks for Performing Arts, as he has done for his other subjects. His quality of work and dedication to completing tasks to the best of his ability is to be admired. He is an example to other students."
Ed's History teacher, Miss Martin added, "I'm really pleased that he is clearly taking that work ethic to other important life skills such as cooking. Well done Ed! And I'm putting in a request for some of those lovely cupcakes when we are all back in school!"