Home

/

World's Biggest Coffee Morning
World's Biggest Coffee Morning
5 October 2016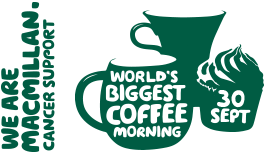 Friday morning saw staff and students take part in the Macmillan Cancer Support World's Biggest Coffee Morning fundraiser, an event aimed to raise money for people facing cancer.
All over the UK Coffee Mornings were being held and donations made going to this worthwhile charity - last year alone £25 million was raised.
Both staff and students baked cakes, and for a small donation, slices were then served with a morning brew before lessons and during break time, eventually raising a grand total of £140.42.
One in three people will face cancer, and the money raised will help provide medical, emotional, practical and financial support.
You can view photos from the event in our Photo Gallery.
Tags: charity