Home

/

FilmClub: Smurfs - The Lost Village
FilmClub: Smurfs - The Lost Village
11 February 2020, 3.00pm – 5.00pm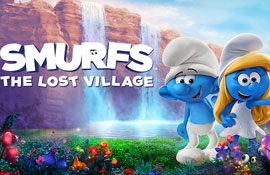 From Sony Pictures Animation and The Kerner Entertainment Company, Smurfs - The Lost Village is a computer-animated fantasy comedy film based on The Smurfs comic series by Peyo.
In this fully animated, all-new take on the Smurfs, a mysterious map sets Smurfette and her best friends Brainy, Clumsy and Hefty on an exciting and thrilling race through the Forbidden Forest filled with magical creatures to find a mysterious lost village before the evil wizard Gargamel does. Embarking on a roller coaster journey full of action and danger, the Smurfs are on a course that leads to the discovery of THE biggest secret in Smurf history!
Written by Stacey Harman, Pamela Ribon, directed by Kelly Asbury and starring the voice talents of Demi Lovato, Rainn Wilson, and Joe Manganiello.
Filmclub starts at 3.00pm and finishes at 5.00pm in the Library.
All students and staff are welcome.

Students can see Miss Kay for Filmclub cards to write film reviews and make suggestions for future screenings.